Russell Brown quoted in China Daily – Change of pace
New modes of economic thinking are creating fresh opportunities for European businesses in China
The motto of Massimo Bagnasco's architectural business is "Less ego, more eco", reflecting its focus on integrated design that pays full heed to environmental concerns. That ethos now seems particularly apt for a company with a presence in China, where business traits once regarded as a must – big and getting bigger, growing rapidly and growing more rapidly still – suddenly seem to be passe.
So much so that as many multinational companies shut down factories in the country or reduce investment, smaller, more resilient companies and business people like Bagnasco are beginning to find that their best days in China may lie ahead.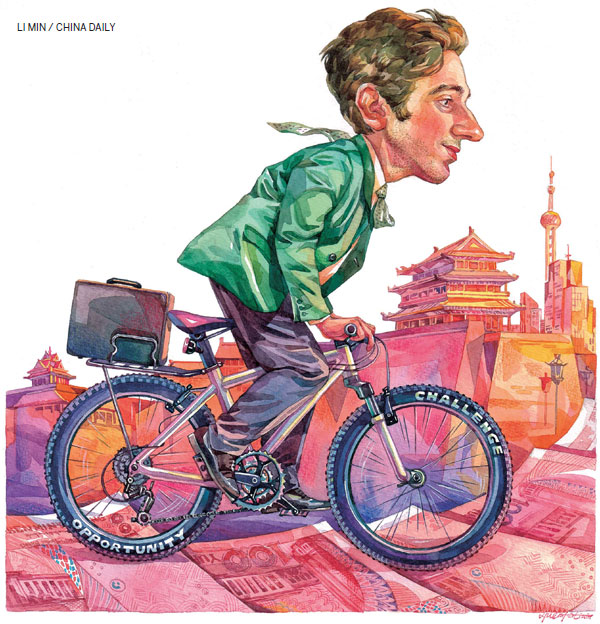 After 12 years in China generally enjoying success that paralleled the spectacular growth of the host country's economy, Bagnasco's company Progetto CMR, whose headquarters are in Milan, went through a rough patch in 2013, he says.
Making the most of its circumstances, the company "took time to look at the new situation in China and what could be new areas to develop, and we got a clear idea of how to develop our business", he says.
One realization was that Progetto CMR's concept of integrated sustainable urban planning and green building was at last beginning to take off in China.
That reassessment of a company's relationship with China reflects the process much of the world is now going through as it grapples with the idea of how to deal with the country's so-called economic new normal.
China has been a preoccupation with businesspeople, economists and politicians worldwide for several years now as its GDP growth has headed seemingly inexorably below 7 percent. However, many experts regard an economy that is more consumption-driven, service-oriented and that focuses on high-technology and innovation as one that produces more opportunities for European small and medium-sized enterprises.
Mats Harborn, vice-president of the European Union Chamber of Commerce, says: "In the past, the Chinese government cared a lot about quick growth, and being big in different areas. Now the country is moving into a new economic phase, with the focus on moving up the value-chain and thinking about what kind of value can be optimized."
This "business logic" is something that Europeans can readily recognize, he says, because it is much closer to the European way of doing business.
"Now it is not about low-cost, but about value. So there are millions of opportunities for European small and medium-sized enterprises."
Harborn estimates that Europe's small and medium-sized enterprises account for about 99 percent of European businesses. They play a pivotal role in the creation of wealth and economic growth, and are important drivers of innovation.
The European chamber says it represents about 1,800 companies in China, 80 percent of them SMEs. China is now Europe's second-largest business partner, and Europe is China's biggest business partners. Every day, bilateral trade between China and Europe exceeds 1 billion euros, Harborn says.
Companies like Progetto CMR now say that winds of change in China, hopefully soon, will breathe new life into their business. Bagnasco points to what he sees as huge opportunities in the National New-type Urbanization Plan (2014-2020), the country's first official plan on urbanization. The plan, published last year, lays great stress on environmental issues and quality as urbanization proceeds.
In the past in China, quantity and speed rather than quality and design added value were the chief concern of most stockholders embarking on a construction project, Bagnasco says.
"When they saw a design they would say, 'Maybe this is too expensive, and it's going to take too much time,' and then keep maybe 10 percent of your design, but build in another way, because they had to build quickly.
"We welcome the new plan for urbanization, because it completely changes the approach toward city development. Before the focus was on speed and quantity. Now we really expect it will be different. People see the value of the experience, and the management of the project development process we are able to do is different.
"They are now focusing on something that has social importance, and on people, realizing that you should provide new services to people, you should provide healthcare, education and should also take into consideration culture, historical heritage environment protection, natural resource preservation, starting by a sensible improvement in land use efficiency." Therein lie huge opportunities for European companies, he says.
Russell Brown, managing partner of LehmanBrown, an accounting, taxation and business advisory firm that specializes in China, says his company has helped bring hundreds of European companies to China over the past 14 years. The company has operations in Beijing, Shanghai, Hong Kong, Macao, Shenzhen, Guangzhou and Tianjin and employs 200 people.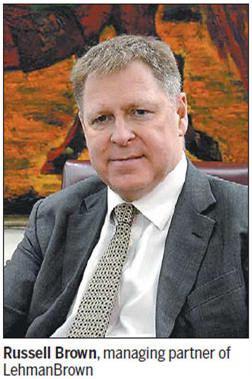 Brown says that when he set the company up 14 years ago his aim was to build an international firm with Chinese and foreign characteristics that could help foreign companies do business in China and Chinese companies do business abroad.
The Chinese government's plan to rebalance the economy means reducing low-cost manufacturing, increasing the use of technology and creating technology and service industries, Brown says.
"So, it's a natural progression. For SMEs, which are usually strong in innovation, high-tech, and the services industry it provides great opportunity.
"We see a significance increase in SMEs in innovation, high-tech and service sectors looking to the Chinese market, to look at either establishing themselves here or where they have intellectual property or the ability to create intellectual property and or to get intellectual property rights for special products. They can find companies in China that can help take them to market through venturing or cooperation."
Benjamin Denis, general manager of Mixel Inc, a French company that designs and manufactures custom-made mixers for various applications, says the attention China is now paying to the environment has created more opportunities for his company, whose products are bought by companies in areas such as water treatment, bio-energy and agriculture. Mixel employs 55 people in France and 22 in China, Denis says, and it says it plans to continue to focus on the niche market.
"We are small, but we are very specialized in the mixing industry. China is a very big market for sure, and a big country, and we need to focus in order to be successful." The company set up a factory in Beijing in 2005, and at first sold mainly to foreign companies.
"Now more and more of our customers are Chinese companies, because many are looking for more high-tech and advanced equipment from foreign companies. For the next 10 to 15 years I see many opportunities in environmental protection."
Chris Cheung, director of the EU SME Center in Beijing, says that recent figures show that out of Europe's 22 million SMEs about 10 percent of them exporting beyond the internal market are exporting to China.
The EU-funded center helps SMEs prepare to do business in China, providing practical information, advice and training in business development, legal issues, standards and human resources.
The center, which opened in 2010, has 6,000 registered members, of which 55 percent have not yet done business in China, the other 45 percent are already exporting or investing here.
In the center's five years in China it has answered more than 2,500 online queries and trained more than 15,000 participants and its documents have been downloaded over 100,000 times, Cheung says.
"The number of registrations is increasing all the time, and more people are becoming aware of the opportunities in China. The biggest barrier when EU SMEs come here is accessing reliable information on this large and complex business environment. Even though business opportunities here have grown quickly over the past 20 years, for SMEs things are just starting."
Doing business in China is changing, Cheung says, and SMEs that understand and work with these changes and focus on niche markets are more likely to be successful.
"GDP growth is not running at 10 percent anymore. Ten years ago the focus was on building infrastructure and export-led growth, and this is changing. China's GDP growth is now at 7 percent and the economy as a whole is trying to shift to more consumption-led growth. This brings about opportunities for EU SMEs in sectors such as retail, food and beverages and any other products that can feed the growing consumer need.
"China is also facing social infrastructure and the environmental challenges. Many European SMEs are well placed to provide the technology, products and services which are solutions for these challenges."
Flo Eysler, a businessman from Germany, says his business has grown as a result of the growing awareness by Chinese people of the importance of health and lifestyle.
In 2005 Eysler, who had worked for a German car company for five years, set up iF Foods Ltd, which produces freshly squeezed juice. Things have gone so well that he plans to invest 5 million yuan in a 2,500 square-meter juice processing factory in Tianjin this summer.
Growing lifestyle consciousness in China is something he has noticed particularly over the past two years, he says.
"This is an evolutionary process. The only thing the 1960s and earlier generation in China were concerned about with food was that they should not be hungry. Starting with the '70s but particularly the '80s and '90s generation, people have become more mature and want to embrace the concept of a healthy diet, and they are willing to spend money on it."
Eysler says that when he set up iF Foods in Beijing in 2007, about 70 percent of his customers were non-Chinese, but now more than 80 percent are locals. The company now employs about 60 people and is expecting a revenue of about 30 million yuan in 2015, he says.
"Apart from being healthy, convenience is also very important. We market ourselves on the fact that we can deliver to your office desk every day."
Another European business cashing in on the changing nature of China's economy is Linearis Translations, of Latvia. Its manager in China, Maija Kurte, says the business had thrived on the back of bigger companies seeing scope for trade and investment between China and the world.
But now the company, which employs six people in China, is getting much more work from smaller businesses, she says, and it plans to open an office in southeastern China.
"One reason we came to China was that we got bored in Europe, where translation is a very old industry, and there are many companies in the field."
The company now sees growth of 15 percent a year. In addition to the six people it employs in China, it has a freelancer network of about 200 translators and interpreters in Asia, Kurte says. Seventy percent of the company's business is China-English translations, and in addition to Finnair, Microsoft and Siemens, its customers include embassies and small and medium-sized companies, Chinese and foreign.
Harborn says if SMEs coming to China are to succeed, they need to be able to adapt to change, given that the country's economy is changing much more quickly than in many other places, he says.
"It's not about those who are big eating those who are small, it's about those who are quick eating those who are slow."
Small and medium-sized companies have much fewer resources than their huge, multinational counterparts, he says, so are less adept at dealing with complicated legal and financial problems.
Cheung of the EU SME Center says that multinational companies have more resources and greater research capabilities.
"However, because of their size, smaller companies are more nimble, so they can adapt their strategies much more quickly to the rapidly changing business environment. But they are resource constrained, and one thing about China is that you have to be here for the long term. You need time to build relationships, things like different languages, and to understand the regulations and different business culture, and that takes time."
Brown of LehmanBrown says that carefully choosing a location is also important for any company wanting to set up shop in China.
"SMEs have limited money and time, so in such a big market, in terms of population, you need to think about where you can go, and where you can put a base that can be readily built on. At the end of the day, a multinational can afford to fail maybe a few times, but SMEs cannot. So they really need to get it right the first time."
Cheung says that in smaller cities, where cost, labor and rent are all cheaper than in Beijing and Shanghai, there are fewer foreign companies and local government are receptive to foreign investment.
EU SMEs in China have some common characteristics, he says, including being focused on niche markets, coming to China in a positive frame of mind, being able to adapt to differences and being flexible.
"You also need to develop good relationships with people here, being very genuine in approaching them, finding the right joint venture partners or local partners and understanding each other's different visions or strategy for the development of the company.
"Many EU and Chinese companies jump into a relationship very quickly, without understanding what each other really wants."
Xiao Qiang, director of the China Small and Medium-Size Enterprise Institute, says that as China moves up the value chain, companies from Europe will bring more innovation and excellent experience to China.
"China has the most complete manufacturing industries in the world. Whatever you are doing and whatever field you are in, you can always find an opportunity here."