Webinar · Setting up a Business in China
China is one if not the largest market in the world with enormous opportunities for SMEs to take advantage to expand themselves and have an alternative source of revenue. There may be some concerns about the China-US trade war currently underway, but potential European SMEs could fill the gap created by American business leaving.
Trade wars will come and go, however, the possibility to set up a business in China might not be, thus it is essential to do everything right on the first try. Nothing must be left to chance when trying to enter such a big market with many legal and bureaucratic hurdles.
For this reason, LehmanBrown was asked by the EUSME Center in Beijing to present a webinar to help interested European SMEs discover how to set up and or operate in China. Russell Brown OBE, Managing Partner of LehmanBrown International Accountants, has over a decade of exercise helping business of all size and industries enter the Chinese market and navigate through the many complexities that it entails.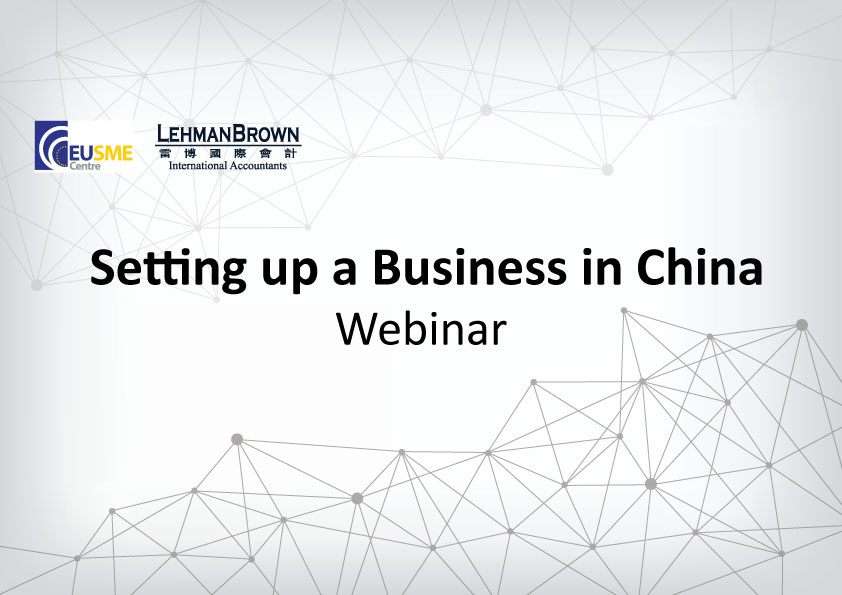 The Topics
In the Setting up a Business in China Webinar, by Russell Brown, covers:
Types of legal entities, including each of their benefits and limitations.
All considerations and requirements for deciding and setting up each of the legal entities.
Risks and risk mitigation.
IP protection covering Trademarks, Patents, and Copyright.
China's tax laws Corporate Income Tax, withholding taxes and tax on individuals and more.
Profit and funds repatriation.
Need-to-know China insights for SMEs.
To see the webinar, you can visit the link – EUSME Setting Up a Business in China – please keep in mind that you will need a VPN to access the video.
About the Speaker
Mr. Russell Brown OBE, Managing Partner, LehmanBrown International Accountants
Russell is Founder and Managing Partner of LehmanBrown International Accountants, a China-focused accounting, taxation and business advisory firm with operations in Beijing, Hong Kong and five other offices across China, and affiliates in over 100 countries.
He currently acts as the advisor to international companies entering the China market and to Chinese companies venturing abroad. He has advised in a wide range of industries and business situations in China and Hong Kong. He is also a frequent speaker at conferences and seminars on taxation, accounting and doing business in and with China.
Russell is a Fellow of the Chartered Institute of Management Accountants (CIMA) in the UK and a Fellow of the Institute of Chartered Accountants of England and Wales. He is also a Certified Global Management Accountant.
About The EU SME Centre
The EU SME Centre is a European Union initiative that provides a comprehensive range of hands-on support services to European small and medium-sized enterprises (SMEs), getting them ready to do business in China.
Our team of experts provides advice and support in four areas – business development, law, standards and conformity and human resources. Collaborating with external experts worldwide, the Centre converts valuable knowledge and experience into practical business tools and services easily accessible online.

Website: www.eusmecentre.org.cn