Doing Business in Hong Kong
If you would like to learn more about the details of Hong Kong Business Guidance, please download here.
Hong Kong: Overview
Hong Kong is a Special Administrative Region of China. Its geographical location is one of its main advantages for its shipping industries as well as making it a hub for financial services and tourism. Nearly half of the World's population, including: Mainland China, Japan, Korea, and West Australia, is within a five hour flight away from Hong Kong. Hong Kong is also home to world-class transport and logistics infrastructure. This includes a first-class railway system, the world's busiest cargo airport as well as one of the world's busiest container ports.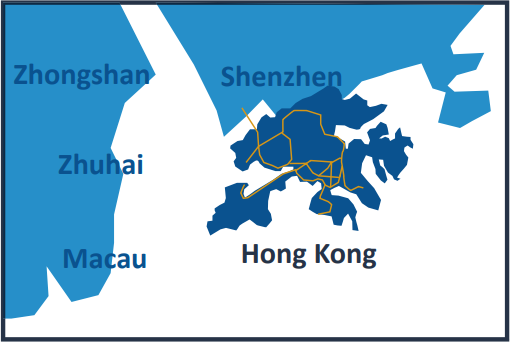 Hong Kong Business Climate and History
Hong Kong's industrial economy was founded in the 1950s with the textile sector, before gradually diversifying in the 1960s to include: clothing, electronics, plastics as well as other labor intensive production. Hong Kong began its process of reintegration with China in 1978 with the start of Deng Xiaoping's "Open Door Policy". This policy was one where China re-opened its economy to doing business with the West, which included reintegration with Hong Kong. This allowed Hong Kong to regain its position as the main provider of commercial and financial services to China. Between the years 1978 and 1997 the average rate of growth of trade between Hong Kong and the PRC was 28% year on year. This period of reintegration also marks an important transition in the Hong Kong economy, from a manufacturing economy to a service oriented economy.
Once the Mainland re-opened its doors to foreign business, Hong Kong manufacturers began to move labor intensive activities to Mainland China, where labor was cheaper, and refocused its domestic labor force on its service industries. Manufacturing jobs continued to move out in the 80s and 90s and there was a major surge in service sector jobs. The value of manufacturing as a sector for an economy peaked around 1992, whereas commercial and financial services still appeared prosperous after this time period, indicating that Hong Kong's change in industries came around the right time. Data from 1981 to 2000 indicates that the percentage of the people employed in the service sector of the Hong Kong increased from 52% of the labor force to 80%, while those employed in the manufacturing sector decreased simultaneously from 39% to 10%. During this time period the switch from manufacturing to service helped strengthen Hong Kong's economy and become the financial and professional services hub that they are today.
Hong Kong's Key Industries
Present-day Hong Kong has four key industries that are essential to its thriving service driven economy and are as follows: financial services, trading and logistics, tourism, as well as producer and professional services. These four key industries make up a major part of the Hong Kong economy and they are very important to building strong international ties.
Financial services and banking: Hong Kong has had a long history of being a hub for financial activities and banking, and was once the only international outlet for Mainland China. When China reopened its doors to the West in 1978, Hong Kong was able to move many of its laborious manufacturing jobs to the Mainland while simultaneously focusing its resources on building up its service industries, which included its financial sector. Its modern day financial sector includes: banking, insurance, stock brokerage and fund management. In 2013, this sector of the economy accounted for 16% of Hong Kong's GDP and for employing 12.5% of its labour force. These statistics show just how expansive and influential this particular sector is to the Hong Kong economy. In recognizing this global hub, 71 of the world's top 100 banks have an established presence there. Hong Kong has really expanded its reach from being a financial hub in Southeast Asia, to connecting the whole world and routing its finances using its many services.
Trading and Logistics: According to the World Trade report in 2013, Hong Kong was the 9th largest merchandise trading entity in the world, making it an ideal place for companies with an interest in logistics businesses as well as freight moving services to converge. Hong Kong's investment in its infrastructure is also what contributes to the efficiency of the logistics business. In addition to their world-class infrastructure, Hong Kong is also home to the world's busiest cargo airport as well as one of the world's busiest container ports. Hong Kong is able to maintain its advantage in its infrastructure and processing due to a heavy set of Intellectual Property ("IP") protections. Another advantage that helps Hong Kong maintain its efficiency in logistics and trade is that there are round the clock border crossings as well as one stop customs inspections between Hong Kong and Mainland China, which add to the efficiency of the transport of goods.
Tourism: The third key industry is Tourism, including both inbound and outbound tourism. Mainlanders as well as others from Southeast Asia make up the majority of the tourists entering Hong Kong, but it is drawing a more international crowd in more recent years. Hong Kong also offers visa-free entries to visitors from over 170 countries making it an incredibly easy travel destination for tourists. Hong Kong also has a unique hold of a market of tourists who travel there for: meetings, incentives, conventions and exhibitions ("MICE"). In 2014, tourism in the MICE sector accounted for a total of 1.82 million visitors, showing the opportunity for growth in this market. Hong Kong has very good relations with a majority of the world and that in part is what allows the tourism industry of Hong Kong to flourish.
Producer and professional services: This can include many services such as market research testing, client management as well as professional legal and consulting services. Hong Kong offers world-class testing and quality certification with the highest levels of credibility when it comes to industrial testing which is a standard that is sought after throughout the world. It is to be noted that Hong Kong industrial testing is of world-class efficiency as well as a highly credible source of information. When more manufacturing jobs moved over to Mainland China and away from Hong Kong, the Services industry began to flourish, including Professional and Financial Services. This has really allowed Hong Kong to develop and become a world player in the field of business as well as finance and makes it a great opportunity for investing and business ventures.
Investing in Hong Kong
Hong Kong, a Special Administrative Region (SAR) of China, is the leading trade partner and gateway of business for Mainland China in terms of exports and as a service region. Thousands of international entities have decided to make Hong Kong an investment destination in its own right for the following benefits and reasons:
Flexible/Free Economy Initiatives like the Hong Kong-Shanghai Stock Connect, the Mutual Recognition of Funds, and The Hong Kong Shanghai Gold Connect are all important steps towards opening up the Mainland's capital markets and has reinforced Hong Kong's leading role as China's offshore RMB market.
Investment Aid Hong Kong's government encourages foreign investment thus they make it easier to establish a company in China, providing sufficient support and reduced time.
Legal Benefits Hong Kong has a stable and accessible legal system. The HK legal system is based on the English Common law, written in English and is supported by an independent judiciary. Legal protection is also offered to intellectual property ("IP") and is more enforced and extensive than Mainland China. Businesses that decide to use the Hong Kong courts may have more confidence that judgments will be upheld in China.
Protection A private limited company is the most common type of entity to be registered in Hong Kong, which has limited liability and independent legal personality. Such an entity could be used as a parent to the Chinese foreign investment enterprise and to structure other investments into the region. As a holding company of the Chinese investment, this structure may offer foreign investors more protections than a direct shareholding in a Chinese company.
Tax System Hong Kong has an exceptionally simple tax system with only 4 direct taxes including: Profits Tax, Salaries Tax, Property Tax and Stamp Duty.
Low Taxes Hong Kong taxes are among the lowest tax rates in the world and are very simple. The profits tax rate is the same for foreign and local companies, at a low 17.5%, imposes only three direct taxes: profits tax at 16.5%, salaries tax at a maximum 15% and property tax at 15%.
Stamp Duty A stamp duty is a tax on documents. The Hong Kong Government has broken down the stamp duty on legal binding documents into 4 types.
The New Hong Kong Companies Ordinance (2014)
The New Companies Ordinance ("NCO") of Hong Kong seeks to reform and restructure business company law, which has not been majorly re-hauled for 20 years. This legislation has been under construction since 2006 and according to Professor K C Chan (Secretary for Financial Services and the Treasury) it will provide a "modernized framework for the operation and incorporation of companies in Hong Kong and enhance competition."
The NCO covers all the areas regulated under the old Ordinance (Cap. 32), except the disqualification of directors, prospectus regime and the winding-up of insolvency provisions. Much of the NCO legislation concerns reform and modernization of the legal framework. However, the NCO also contains a number of measures that will radically change the business community in Hong Kong. Out-dated and unnecessary business procedures have been addressed in the NCO, which is in part, a creation of public consultations and discussions.